For my seventh pre-show speaker interview, I've chosen to speak with Jasmine Sandler, an educator, author, speaker and strategist who, at this year's IMD show, will tackle the subject of creating executive social influencers inside organizations.
Question: In a few words, could you please tell the IMD's community about yourself and what you do?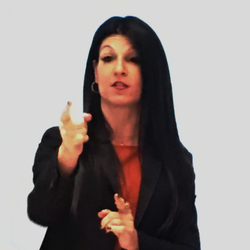 Jasmine: I am the Founder and CEO of Agent-cy Online Marketing. We have been helping Brands and their Executives drive online brand awareness, social media engagement and thought leadership development since 2006. I lead Digital Marketing Strategy. I have a love for inspiring audiences as a keynote speaker around being better in business and in Digital Marketing. My hobbies are Ice Hockey (player 15+ years) and Singing (in 2 rock bands).
Question: Influencer marketing has been around for a few years and has already had its share of ups and downs. What are the biggest challenges that you see it face now?
Jasmine: Determining who is an appropriate Influencer I see as a major challenge for both retail and service clients that we work with. Many times companies want to go big just for the name without understanding how that Influencer can align with their Brand.
Managing the behavior of the Influencer is also a challenge.
Question: How can marketers overcome these?
Jasmine: In my work in the area of Personal Brand Development which is all about making internal Executives Influencers within their organization, the the customer base and the media, I work with my team to go through an intense program of understanding, strategizing and training (media) so that they are on point with their intended brand and have an action plan on how to behave with their audience sets. This formula is something that can work with other Influencers to maintain controls and something I will discuss at Influencer Marketing Days in September.
Question: What, in your opinion, is the biggest advantage of (doing) influencer marketing?
Jasmine: The best Marketing has always been word of mouth. After all, doing business is all about Like and Trust of a Brand. When an Influencer Marketing program is developed and managed correctly , the Influencer can build that Brand Trust and evoke WOM.
Question: When operating on a tight budget, but wanting to hop on the influencer marketing bandwagon, where would you recommend a company to focus their efforts, how, and why?
Jasmine: As I mentioned, many times we build internal executives as Influencers as a lower cost way to start. Beyond that, it is great to identify local Influencers for a certain demo market for companies that have multiple locations. Finally, looking at smaller influencers on specific social channels (based on a Social Strategy) is another way. I have found that no matter the size of the company, when they are just beginning in any type of NEW tactic they are hesitant to throw a lot of money into it.
Question: On September 25, 2017 you're speaking at Influencer Marketing Days. Why should marketers want attend your session?
Jasmine: I will inspire. I will educate. I will make them take action. This is what I do. And, specifically for Executives who want to take the leap and are serious about understanding how to build their own Influencer brands. I will give them the steps and the keys to do this. I will show them how I have driven influence amongst my own core networks and how my clients have done the same.
Question: If you were to give one influencer marketing advice to brands/advertisers, and one to influencers, what would they be?
Jasmine: 
To the Brands: Test your brand messaging and strategy for likeness amongst your primary audience to ensure it sticks before investing in training an Influencer to carry that message forward.
To Influencers: Build your own personal brand in such a way that it is targeted to a specific industry or company type. Focus.