Numerous brands have registered to attend this year's Influencer Marketing Days: some to learn, others to teach…
Among the latter is my today's guest, Heather Sliwinski who works for a startup called Nima and who will address the subject of marketing through influencers from a startup angle. Below you may find her answers to some of the industry's most pressing questions.
Enjoy the read, and don't forget to register – to learn from Heather and other amazing speakers that we have for you.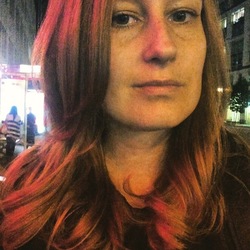 Question: In a few words, could you please tell the IMD's community about yourself and what you do?
Heather: I am the director of communications at a food tech startup in San Francisco called Nima. We're bringing peace of mind to mealtime with portable sensors that let you test your food for allergens before you eat! I lead the media relations, influencer relations, social media and content marketing strategies for the company, and anything else that pops up. We wear many hats at startups. I have a passion for technology and love telling stories about how tech is changing our daily lives.
Question: Influencer marketing has been around for a few years and has already had its share of ups and downs. What are the biggest challenges that you see it face now?
Heather: Regulation around influencer marketing is going to be the biggest challenge for both brands and influencers in the next couple years as the FTC starts cracking down on disclosure. At first, brands were being called out and fined (i.e. Lord and Taylor) for not having full disclosure that their partner posts were sponsored, but now influencers are being held accountable as well. Social media platforms are going to make it easier to disclose, like Facebook's new branded posts, but ensuring every sponsored post discloses any partnership should be top of mind for all influencer marketers.
Question: How can marketers overcome these?
Heather: In addition to social media platforms releasing new features to make it easier to disclose sponsorships, marketers can include all the requirements in their contracts and enforcing those terms even after posts go live.
Question: What, in your opinion, is the biggest advantage of (doing) influencer marketing?
Heather: Influencer marketing takes advantage of the community already built by an influencer that is interested in their personal story. You can find super-niche groups of likeminded people; if you find an influencer who can tell the right story about your product and why it fits into their life, you're tapping into a treasure trove of people who would care about your brand. Since we have a somewhat niche product right now, we are very selective about who we work with – we don't just look at number of followers but also make sure that talking about our product would be a seamless, natural fit for them and their community.
Question: When operating on a tight budget, but wanting to hop on the influencer marketing bandwagon, where would you recommend a company to focus their efforts, how, and why?
Heather: My background has always been in PR, where you don't pay for placement. It was really tough for me to wrap my head around paying people to write about your brand. Before we launched our first product, we needed to build buzz in the press but also in the gluten-free communities online. Mostly because I had never really done influencer marketing before, I treated bloggers and influencers as journalists. I couldn't pay them right away, but I started to build the relationship. I gave them news and updates on the product, invited them to VIP dinners and happy hours where we gave them sneak previews of the product and got them excited about what was coming. If you respect them, their time and still provide useful, interesting information, you will lay the groundwork for future partnerships. We were able to build a lot of social buzz ahead of the launch, and some of the bloggers even pre-ordered the device themselves out of excitement!
Question: On September 25, 2017 you're speaking at Influencer Marketing Days. Why should marketers want attend your session?
Heather: I love attending conferences to get inspiration from the biggest brands – but I rarely have had the resources to implement any of those ideas when I get back to work. My session will share actionable insights you can take home and implement immediately – no matter the size of your organization!
Question: If you were to give one influencer marketing advice to brands/advertisers, and one to influencers, what would they be?
Heather:
Marketers: Start small and scale up – test different promotions and social channels to figure out what has the best engagement and then increase momentum.
Influencers: Please disclose partnerships/sponsorships in your posts! Especially if it's in your contract. We don't want to have to chase you down to get posts edited.