My today's interviewee is Cooper Munroe, founder and CEO of The Motherland.
At this year's Influencer Marketing Days, she will dissect the widely-discussed subject of marketing through micro-influencers, providing practical takeaways on how to make the most of such relationships.
With pleasure, I bring you a transcript of the interview she has kindly given us:
Question: In a few words, could you please tell the IMD's community about yourself and what you do?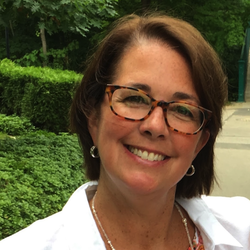 Cooper: More than a decade ago, when few people knew what a "blog" was and most social media channels didn't yet exist, I started a parenting blog with a friend and discovered a whole community of moms online, sharing their stories, forging friendships and engaging authentically through this new platform. With 25 years of experience in the public relations field, before long, we recognized the value of harnessing the growing power and influence of this group on behalf of brands and worked to create a new business model, connecting brands directly with moms online. That insight led to The Motherhood, one of the very first social media marketing agencies.
While the strategies and tactics employed by The Motherhood have evolved since our inception, the core business model has proven to be sustainable and increasingly powerful, providing social media consulting, opinion research and influencer outreach services to more than 200 clients, including Fortune 500 companies, start-ups and nonprofit organizations.
We were recently named Social Media Team of the Year by PR News and Agency of the Year by PRSA in our headquarters city, Pittsburgh. I'm continually proud of this team, our brilliant network of influencers and content creators.
Question: Influencer marketing has been around for a few years and has already had its share of ups and downs. What are the biggest challenges that you see it face now?
Cooper: As brands and companies look to streamline services and explore the most cost-efficient ways to tap into influencer marketing, full automation can look like a viable solution. While we do believe in the power of technology for streamlining and creating efficiencies, and we've built our own database — a campaign management platform called The Mometer — to innovate in that space, it's critically important that we don't lose the human-centered approach that made influencer marketing into the powerhouse it has become.
Question: How can marketers overcome these?
Cooper: Find a way to achieve both — efficient programming that still delivers high-touch, smart, thoughtful, human-centered content that has real impact.
One of the hardest parts of influencer marketing is building relationships — most of the brand marketers we talk to who have done it on their own describe how difficult and time-consuming it is to build relationships with influencers before they can even begin to ask them to work together. Collaborating with a network that has built and nurtured influencer relationships as a core part of their business and can act as a trusted steward of your brand is immensely valuable in overcoming this hurdle.
At The Motherhood, we combine qualitative and human-gathered quantitative data to identify influencers who truly are a fit for the brand and campaign, while streamlining processes for keeping track of key activities, approving your team of influencers and viewing influencer coverage as it comes in. We're confident we've achieved the most high-touch, relational approach when working with influencers that's currently available.
Question: What, in your opinion, is the biggest advantage of (doing) influencer marketing?
Cooper: The intrinsic value of influencers is in the community of followers who trust their opinions, and in the ongoing long-term visibility of the coverage. An ad in a newspaper or magazine gets seen and discarded, but blogs in particular provide a home base for searchable branded content, creating a positive digital bookshelf for the brand both during the campaign timeframe and beyond.
Question: When operating on a tight budget, but wanting to hop on the influencer marketing bandwagon, where would you recommend a company to focus their efforts, how, and why?
Cooper: Don't overlook the value of partnering with up-and-coming bloggers, or micro-influencers with smaller reach but huge impact, who create beautiful content that aligns with your brand. A partnership can be a tremendous asset to both bloggers and brands looking to get their feet wet with influencer marketing.
Question: On September 26, 2017 you're speaking at Influencer Marketing Days. Why should marketers care to attend your session?
Cooper: Reach and influence aren't always closely correlated; influence can happen at any level. A micro-influencer may influence a larger portion of his or her followers than a celebrity influencer. Because they are working hard to provide engaging content and grow their reach, micro-influencers generally put forth greater effort on behalf of a brand project as they build a community of followers and gain their trust. That translates to a strong degree of influence and meaningful engagement with a targeted audience. We have real-world examples of how micro-influencers made a huge impact on behalf of a brand, which is some of what marketers can expect to learn during my session.
Question: If you were to give one influencer marketing advice to brands/advertisers, and one to influencers, what would they be?
Cooper: Relationships matter! Despite the industry's increasing focus on marketing and influencer automation, we've found that creating and nurturing personal relationships with influencers produces the strongest results.